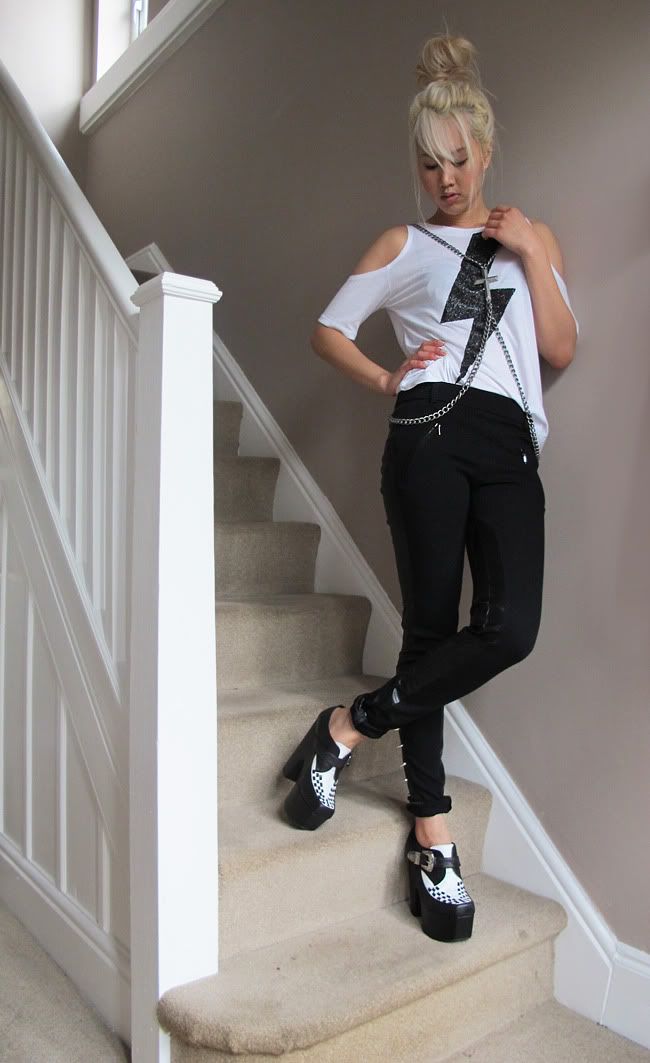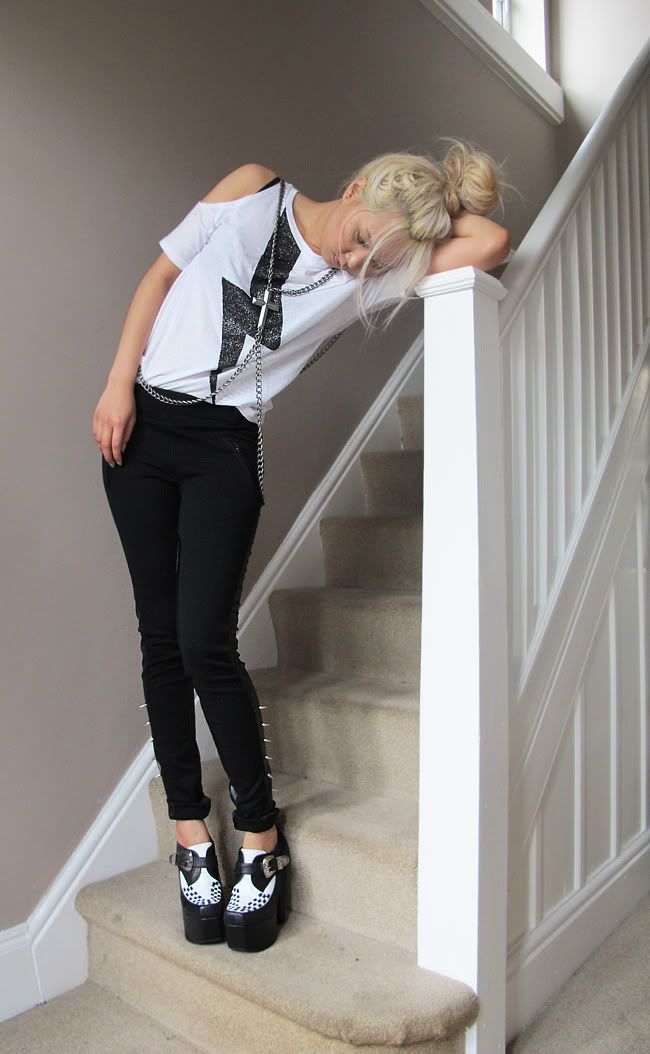 So university started and just not had time to even post anything which is really bugging me because I really want to post as much as I possibly can :(
I was shopping in Topman a few weeks ago on student night and because it was 20% off there and that I love men accessories, Topman is my first stop for them. I found the last piece of this body jewellery chain thing that go over your body with a huge cross on and I really love it. It sure was expensive for them but 20% is a lot right?! so I'd say why not.
Ok moving on to the top, it's also from Topshop as well and I really love the simpleness of the top and the cut out effact added some details to it but not too much and not too little. As you can see... the chain really matches well the shirt which I'm happy about.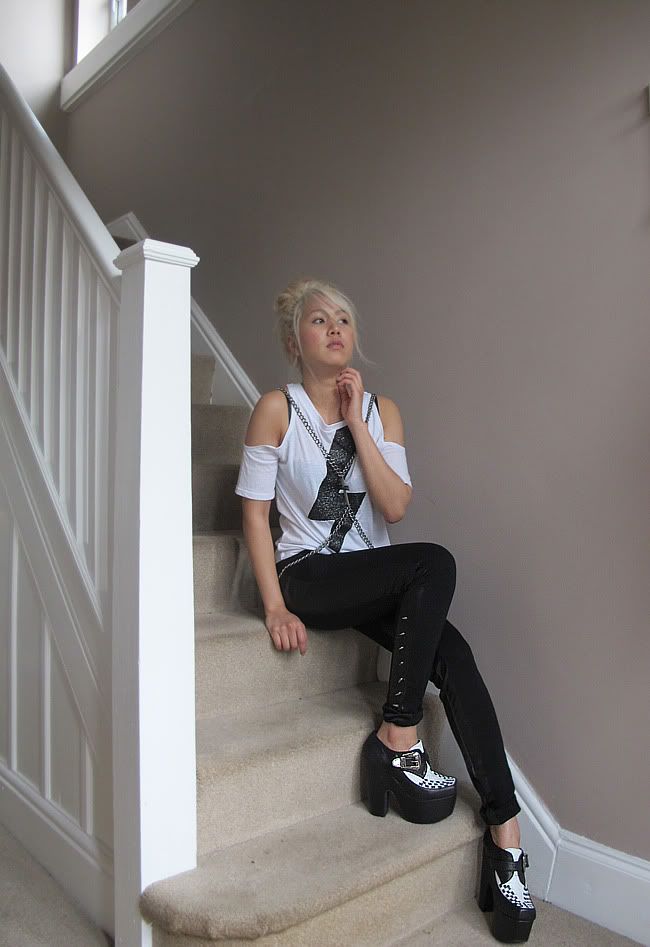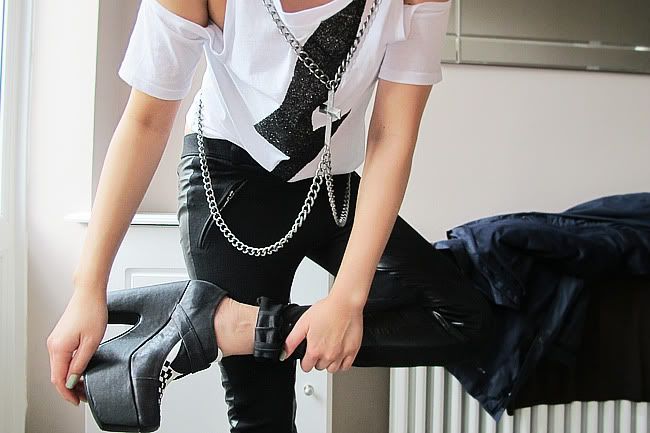 Lately, you will notice I've been taking a lot of self photo by my stairs and I find it a simple place to see everything on the outfit and it's really easy for me instead of having to worry about the condition and weather outside. The last time I was taking pictures outside it started to rain like cats and dogs which ruined my day, my outfit and my photo! Lets keep it simple for now shall we and just go with the flow.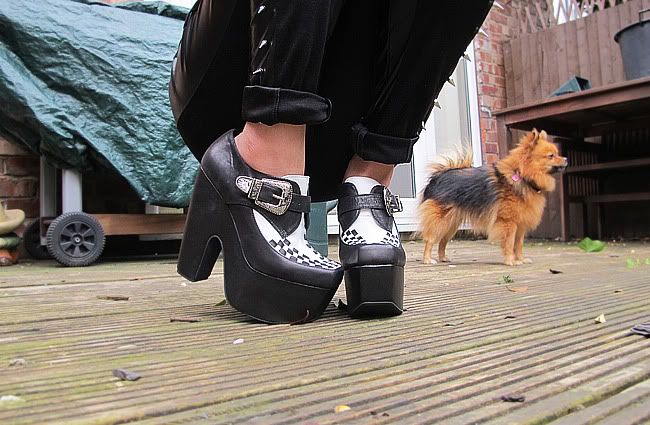 This perfect part of creepers heel, I actually order it with my previous orange and blue shoes by Jeffrey Campbell. They're of course also Jeffrey Campbell... I mean com'on how can I possible resist? Don't even bother asking me how I afford it, to be honest, I really can't afford it but sometime when you buy somthing, you don't think. haha.
Oh by the way, my dog keep getting the in the way in the photo so I just let her be in one of my loaded photos since she been getting in to most of them and I didnt even realised. Awww bless her!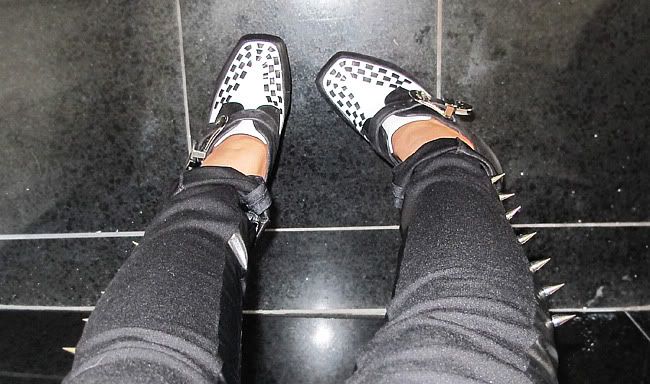 The pants is from Mango store as I really like the leather/PVC look that has been added on to the pants and they give amazing effect and details instead of just wearing a plain boring black pants. The spike studs of course has been added by me where I purchased online from ebay website.
To finished this look off, I didnt want it to look really like those gothic look and tho it would be a good idea to put up my hair into a bun. It was so simple and easy and right at the top of the list is that it was hella comfy!
XO
P.S. I really didn't know what title to use for this outfit, that was the first thing that came into my mind.